2017
Art opens a new window on chronic illness
Dr. Gagliese is featured in the latest issue of yFile, York University's News. 
2016
Delirium May Be Disguising Pain, A New Study Finds
The lab's research is featured in this month's issue of Provider, Long Term and Post-Acute Care. Please click on the hyperlink for the featured article.
Provider is an award-wining magazine under the American Health Care Association and National Centre for Assisted Living.
Welcome new members!
The Pain Aging Lab would like to welcome new undergraduate and graduate students to team! Kirsten Eldridge, Maryam Kara, Rita Nikitin and Mary Schmitz will be starting their research projects with Dr. Gagliese in September. Please visit the current member page for their self-introductions.
Canadian Pain Society 37th Annual Scientific Program
Dr. Lucia Gagliese, Lynn, and Sara will be presenting their abstracts at this year's Canadian Pain Society Annual Scientific Program. The program will be held in Vancouver, British Columbia from May 24th to May 27th!
2015
The 5th International Congress on Neuropathic Pain: The Path to Reliefs Starts with Understanding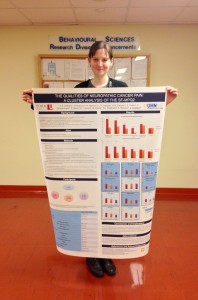 This past May, Dr. Lucia Gagliese was invited to present on recent research,  The Qualities of Neuropathic Cancer Pain: A Cluster Analysis of The SF-MPQ2. The conference was held in Nice, France. Thank you, Rebecca, for creating a visually stunning poster!